about myChess.de
At myChess.de, you can play games of correspondence Chess or Chess960 against any other player via the internet.
You can also challenge friends who are no members of myChess.de yet. In addition, you can organise tournaments and take part in tournaments.
You will be informed via email anytime your opponent has made a move. You can react at once, log in to myChess.de and retrieve your game data or challenges; or you can also call up the game you are just playing by clicking on the link in the email, suggest conditional moves, make and answer challenges.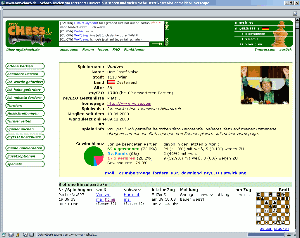 From your account, you can have a look at any running games and unanswered challenges as well as see the finished games of the last six months. You can also have a look at other players' game data, results and myELO-rating.
You can choose different sets of pieces and vary the colour settings of your chessboard. All games are noted down in PGN form (which can also be downloaded) as well as in FEN form. Each player is rated with his or her own myELO-rating and is listed in our Hall of Fame. In addition to variable time limits (10 moves in 10 to 40 days), there is a holiday manager and much more

In order to become a member and get a player account at myChess.de, you need to register first. Then you can log in to myChess.de with your own user name and password and start playing!
Become an @-member and test myChess.de for free! Click here!!
The monthly fee for full members is 0,99 EUR only!
We happily receive your ideas and suggestions to make this programme more interesting and exciting for you and all the other players.
Enjoy playing!


Yours faithfully,
your myChess.de team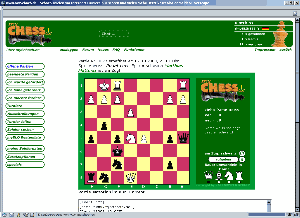 "Contradicting the arbiter is like standing up in church and asking for a discussion."
[Dieter Hildebrandt]
The laws of chess correspond to the FIDE rules. However, some peculiarities arise from the fact that the opponents are not sitting opposite each other with an arbiter. So the programme takes over the arbiter´s job by rejecting illegal moves and recognizing positions such as check, checkmate, stalemate, drawn position, drawn because of the repetition of a position for the third time, 50 moves rule ...

Peculiarities, e.g. concerning the notation of moves in connection with an announced drawn position have been adjusted to the conditions of the internet.


the "myELO" rating system
Each newly registered player starts with a myELO-rating of 1500. If you win, the rating will be raised, if you lose, it will drop.
The myELO-rating of both opponents is taken into account at the opening of a game. If you play against a player with a higher rating, your winnings will be high, if you play against a player with a lower rating than yours, they will be smaller. The same rule applies to losing a game or a game ending with a draw.
If you want to challenge another player, you will be shown an anticipation of your winnings showing you what your myELO-rating would look like if you lost, won or if the game ended with a draw.
If you play against an @member or a player who is no registered member of myChess.de, the game result will not influence your myELO-rating unless your opponent registers as a full member during the game. In this case, he will have a myELO-rating of 1500 during the current game.
As soon as you finish your first game, your new myELO rating will be included in our Hall of Fame.
You can simulate the calculation of myELO ratings before a game with our:
technical facilities
A current browser (for example Firefox, Chrome or Microsoft Edge) and a recommended screen resolution of 1024 x 768 pixels.
Still got any questions?
Contact us and we will try to answer your questions as precisely and quickly as possible.